// A HI-TECH INTERACTIVE EXPERIENCE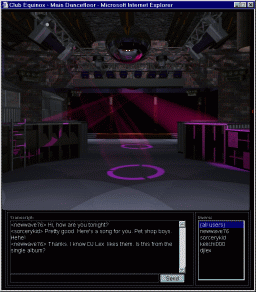 Club Equinox presents the world's most advanced and immersive 3D simulation of a dance club, including virtual soundsystem, video system, and intelligent DMX lighting and special effects, all true to the real-life equivalent!
Just like a real club, you are right in the middle of the action with other party-goers. You can groove like crazy in front of your friends or just chill out on the side of the floor. The DJ handles the sound, lighting, and video systems. All you need to worry about is having fun!
// MUSIC LIBRARY
Just like any club, we take our music collection very seriously. Our DJs pride themselves on building a vast library of music videos, 12" singles, and CDs, all on hand for those last minute requests and surprise dedications! Below is a partial listing of the repertoire of artists you might hear.
INDUSTRIAL, GOTHIC, NEW WAVE

16 Volt
A Ha
Alphaville
Alien Sex Fiend
And One
Apoptygma Berzerk
April March, An
Assemblage 23
Athamay
Ataraxia
Attrition
Aurora Sutra
Bauhaus
Basil, Tony
Bella Morte
Birmingham 6
Biotek
Black Tape for a Blue Girl
Blok 57
BlutEngel
Bjork
Buggles, The
Camouflage
Children on Stun
Christian Death
Collide
Concrete Blonde
Controlled Bleeding
Corpus Delicti
Covenant
Crocodile Shop
Crowded House
Cruxshadows, The
Culture Club
Cure, The
Cyndi Lauper
Cyberaktif
Delerium
Dance or Die
Dead Can Dance
Dead or Alive
Decoded Feedback
Depeche Mode
Diary of Dreams
Digital Poodle
Die Form
Die Krupps
Die Laughing
Die Warzau
Din_Fiv
Dreadful Shadows
Duran Duran
Echo and the Bunnymen
Einstürzende Neubauten
Elijah's Mantle
Electric Hellfire Club, The
Enigma
Enya
Erasure
Eurythmics, The
Evils Toy
Every New Dead Ghost
Fad Gadget
Fair Sex, The
Faithful Dawn
Fields of the Nephilim, The
Flock of Seagulls, A
Front 242
Front Line Assembly
Funker Vogt
God Module
Good Courage
Kevorkian Death Cycle
Hate Dept.
Haujobb
Hocico
Human League
Hyperdex-1-Sect
I, Parasite
Icon of Coil
Ikon
Imperative Reaction
Inkubus Sukkubus
Informatik
In Strict Confidence
Kill Switch... Klick
Leaether Strip
London After Midnight
Lunastoy
Luxt
Joy Division
Juno Reactor
Lead Into Gold
Love Is Colder than Death
Lycia
KMFDM
Klute

Kon Kan
Last Dance, The
Legendary Pink Dots, The
Lights of Euphoria
Lords of Acid
Love Like Blood
Love and Rockets
Nekromantic
Neuroactive
Neurotic Fish
Nick Cave and the Bad Seeds
Noise Unit
Numan, Gary
Madonna
Magenta
March Violets, The
Meat Beat Manifesto
Mentallo & the Fixer
Men at Work
Mephisto Walz
Mesh
Miranda Sex Garden
Midnight Configuration
Ministry
Mission UK, The
My Life with the Thrill Kill Kult
My Bloody Valentine
My Scarlet Life
New Order
Noise Box
Nosferatu
Nitzer Ebb
Numb
Oingo Boingo
Orgy
Panic on the Titanic
Pax
Pierrepoint
Penal Colony
Peter Murphy
Pet Shop Boys
Peter Murphy
Process of Elimination
Project Pitchfork
Psychedelic Furs, The
Psychopomps
Pygmy Children
Razed in Black
Razor Skyline, The
Real Life
Red Lorry Yellow Lorry
Rosetta Stone
SCSI
Soil & Eclipse
Spartak
Silke Bischoff
Sister Machine Gun
Star Industry
Rammstein
Regenerator
Revolting Cocks
Shadows in the Dark
Sex Gang Children, The
Seabound
Severed Heads
Shroud, The
Siouxsie and the Banshees
Sisters of Mercy, The
Soft Cell
Spahn Ranch
Specimen
S.P.O.C.K.
Skinny Puppy
Super Heroines
Suspiria
Switchblade Symphony
T.H.D.
Theatre of Hate
Theatre of Tragedy
Tones on Tail
Tom Tom Club
Torture Tekk
Tors or Dartmoor, The
Two Witches
Type O Negative
Under Two Flags
Velvet Acid Christ
Virgin Prunes
Visage
Voltaire
VNV Nation
Wake, The
Wolfsheim
:Wumpscut:
Xymox
X Marks the Pedwalk
Yazoo

HI-NRG, EURODANCE, HAPPYCORE

2 Unlimited
3 Thieves & A Liar
4 Strings
740 Boyz
808 State
ATB
Atomic Kitten
Ace of Base
Alex Butcher
Alex Party
Amber
Anabonic Frolic
Angelina
Apollo
Apotheosis
Arrested Development
B-One
Billie Ray Martin
BKS
BT
Back 2 Bass
Backstreet Boys
Bang!
Beatsquad, The
Bongo Boys
Brainbug
Bucketheads, The
Candy Girls
Capella
Captain Jack
Cardenia
Cassandra
Ce Ce Peniston
Cheeky Girls
Cherrish
Circ
Cixx
Clock
Critical Mass
Culture Beat
D:Ream
DJ Bobo
DJ Breeze
DJ Brisk
DJ Company
DJ Demo
DJ Dero
DJ Dougal
DJ Hyperactive
DJ Sammy
Dana Dawson
Dance 2 Trance
Dance Factor
Daniel Bedingfield
Delerium
Denine w/ Collage
Des'ree
Dario G
Dionysis
Dirty Vegas
Double You
Dr. Alban
Dragana
Dreamcatcher
Dreamchild
Dreamworld
Dune
E-Rotic
Elogic
Erika
Ferry Corsten
Flashrider
Force & Styles
Foxy Brown
French Affair
Fun Factory
Future Sound of London
Gabrielle
Gilette
Gina G
Groove Solution
Haddaway
Highlander
Holly Valance
Human League
Human Resource
Hysterix
Ice MC
Jason Nevins
Jaade
James Daltan
JDS
Jennifer Holliday
Jocelyn Enriquez
Jodeci
Jr. Flex
Justin Time
Justin Timberlake
Kaotic Chemistry
Katrina

Keith Sweat
Kelis
Kreo
Kristina
Kylie Minogue
Kym Mazelle
L.A. Style
La Bouche
Labelle
Laura Pausini
Layla
Le Click
Legacy of Sound
Lighter Shade of Brown, A
Lil Louis
Lisa Nilsson
Lisa Stansfield
Livin' Joy
Loft
Lords of the Underworld
Los Del Rio
Love Inc.
Love Message
Lovelife
Madonna
MarsPlastic
Marusha
Masterboy
Matrix
Max-A-Million
Midas
Mighty Dub Kats
Milk, Inc.
Missy "Misdemeanor" Elliot
Moby
Molella
Mr. B
Mr. John
Nakatomi
Naughty By Nature
Nerada
Original, The
Paperboy
Pate No. 1
Paul Van Dyk
Patra
P.C. Groove Sensation
Pepper Meshay
Prophet, The
Qkumba Zoo
Quad City DJs
Ramos Supreme
Rapination
Reel 2 Real
Real McCoy
Ricky Martin
Robbie Long
Robert Miles
Robi-Rob's Club World
Robin S
Rochelle
Room 5
Rozalla
Ruffneck
Salt-N-Pepa
Scatman John
Scooter
Scott Brown
Sheryl Joy
Skorpus Ravers
Snap
Solid Bass
Sophie B. Hawkins
Sophie Ellis Baxtor
Spacelovers, The
Squeezer
Sweetbox
SWV (Sisters with Voices)
Sy & Unknown
Sylver
TRF Rave Factory
Taka Boom
Tatjana
Technohead
Technotronic
Temperance
Tevin Campbell
Thomas Anders
TLC
Tiny Tot
Trixxy
Urban Cookie Collective
Urban Shakedown
US3
Usher
Vinylgroover
Vitamin C
Warren G
Wreckx-N-Effect
Whigfield
---
// PROJECT HISTORY
MISSION STATEMENT:
To recreate the thrill of a live dance party in a purely virtual 3d environment.
Originally conceived in January of 2000 as part of an industrial dance music Webcast, the experimental virtual disco project quickly took shape with the continued support of many enthusiastic members and the advent of various open Web standards.
Less than one year later, "The Midnight Assembly" was established as the world's first Internet-based virtual danceclub, featuring live mix shows with realtime collaboration between online DJs and guests in an online venue.
By October of 2001, the name was changed to "Club Equinox". This coincided with a broader marketing campaign as new Web-based technologies and wideband digital music transmission capabilities became commonplace.
Prototypes for a proprietary multiplayer 3D dance venue and client-server system began in 2002. Upon completion in January 2003, this phase of the project would ultimately propel the Internet discotheque into new frontiers!
Club Equinox represents over three years of planning and conceptualization toward a revolutionary future in the way people socialize online. By creating a new paradigm in the clubbing and dating scene, we hope to provide a truly unparalleled community experience for the digital entertainment age.
Wanna help?
More details are available by contacting us at projects@clubequinox.org